A flooded basement or crawl space usually happens with zero warning and causes thousands of dollars worth of damage in no time flat. Water damage is a risk for any home that has a basement or crawl space, even those that are properly built and waterproofed. This type of damage is one of the biggest challenges a homeowner can face and will often leave you feeling hopeless and scared. Flooded spaces should be taken care of quickly while still giving proper care to safety precautions to ensure a clean, dry, and safe home once the job is done.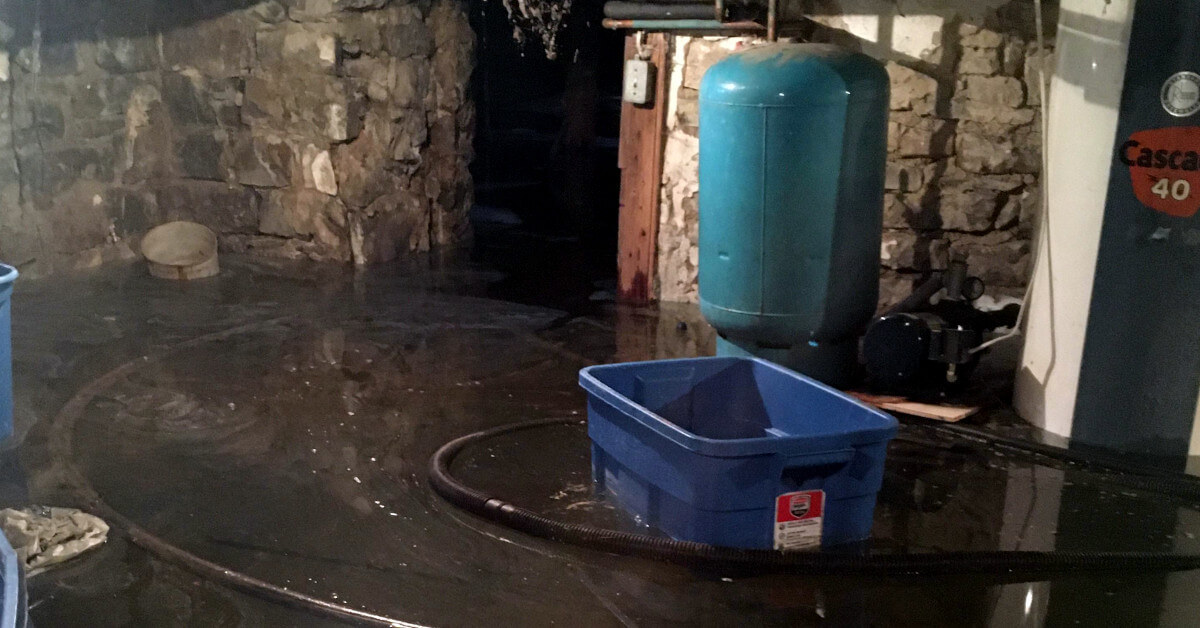 My Basement or Crawl Space is Flooded… Or is It?
When you discover water in your basement, it's important to determine the source of the water for insurance purposes. Although most people instinctively say that their basement has flooded, and that's true for the general definition of flooding, insurance companies have a very specific definition for the word flood that is much different from what you'll find in the dictionary. The source of the water in your basement or crawl space, whether from a sump pump failure, burst pipe, or bad storm, will impact whether your loss will be covered by insurance, making this a very important distinction. We often recommend that property owners seek out an assessment from an IICRC-certified contractor before or at the same time they contact the insurance company to make sure that the loss is properly categorized.
Next Steps
Once the source of the water has been determined, it's time to take action.
Safety First
The very first thing you'll want to do is ensure the space is safe to enter. If there is standing water, leave it be, particularly if the water came from outside the home or a sewer backup. This type of water contains contaminants that can be very harmful to your health. Additionally, standing water creates a huge risk for electric shock if the water is in contact with any wiring or outlets.
Address the Source
Depending on the source of the water, you may be able to stem the flow. If the water is coming from a burst pipe or malfunctioning appliance, turn off your main water supply. This will stop the water from flowing and give you time to call a plumber to fix the problem. Unfortunately, if the water is coming from an overwhelmed sump pump or is the result of heavy rain, there's very little that can be done other than waiting it out. If your basement or crawl space has been deemed safe for entry, you can try to move some of the contents to higher ground to salvage what you can, but besides that, sometimes the only option is to wait for the water to recede and assess the damage from there. Our powerful water extraction equipment can remove safely remove standing water, but it doesn't make sense to get started until the water stops pouring in.
Contact your Insurance and Restoration Professional
Whether you've been able to enter the basement or crawl space or not, you'll want to immediately contact your insurance company to start the claim process and discuss your coverage. Then contact a local IICRC-certified restoration company with good Google ratings. If there is still standing water, but the flow of water has stopped, a professional restoration company will extract the water that is still there and begin the process of drying and cleaning the basement. Time is of the essence when dealing with water damage, so it's important to make these phone calls and get the process started right away.
Flooded basements and crawl spaces are a homeowner's worst nightmare. They can be stressful and scary, but with the right steps, the safety and integrity of your home can be spared.
Contact a Local, Reliable, Full Service Restoration Contractor
Once the immediate water intrusion has stopped, you will want to get the water extracted and begin the dry out process as soon as possible. The longer your basement remains wet or damp, the more damage it may cause and the higher the risk that mold or bacteria could eventually become a serious problem.
Of course, water extraction and structural drying can be a big job, so it's often wise to get professional help. We recommend contacting your local cleaning and restoration company for water extraction, cleanup, and to accurately dry the structure. Their expertise can help to ensure that your basement is properly dried, cleaned up, tested for moisture, and even deodorized.